A FISHING ROD THAT COLLAPSES INTO THE SIZE OF A PEN!
This is perfect to have with you at all times in your backpack or car. Forget about lugging around heavy fishing gear!
HOW TO USE
Open your pocket fishing rod by taking off the cap.
Insert the reel between the two grooves on the pocket rod (you'll see a moving piece which slides up and down, which is where you insert the reel).
Twist the screw down to tighten the reel onto the rod.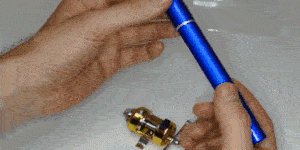 FEATURES
Made from high-quality aluminum alloy and fiberglass for durability.
Forward-and-reverse ratchet with stop-and-drag control.
Extremely compact and lightweight for easy storage.
Stretches up to 38″ when extended; collapses to 8″ when closed.
No extra fishing gear is needed.
Ideal for situations where full-size gear is inconvenient.
ROD SPECIFICATIONS
Material: Carbon fiber, aluminum alloy
Closed length: 20.5 cm / 8.07″
Extended length: 93 cm / 36.6″
Weight: 55 g
MINI BAIT-CASTING REEL
Material: Aluminum alloy brass
Size: 7 cm x 3 cm / 2.7″ x 1.2″
Weight: 70 g
PACKAGE INCLUDES
1 x Fishing rod
1 x Fishing reel